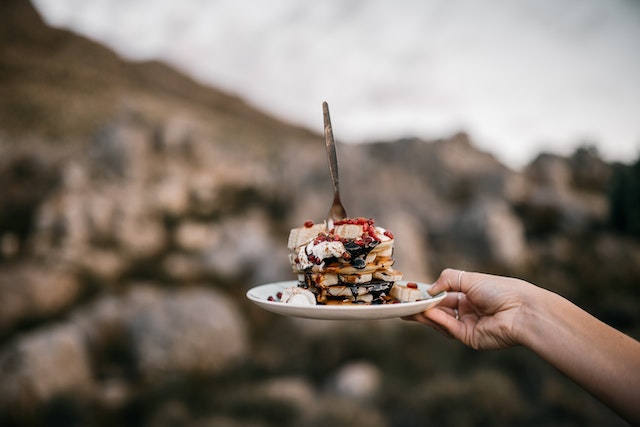 Embarking on a road trip in a campervan is a thrilling adventure, offering the freedom to explore new landscapes and create lasting memories. To kickstart your day of exploration, nothing beats a hearty and nutritious meal. With the convenience and innovation brought by companies like VDUBLINE, campervan enthusiasts can now prepare amazing meals that not only tantalise the taste buds but also set the stage for an unforgettable day.
1. Sunrise Skillet: Rev up your morning with a Sunrise Skillet – a combination of fluffy scrambled eggs, sautéed veggies, and crispy bacon. VDUBLINE's efficient kitchen setups make it a breeze to prepare this wholesome breakfast in your campervan. Simply chop your favourite vegetables the night before, and in the morning, toss them into a skillet with scrambled eggs and bacon for a protein-packed meal that ensures you're ready to tackle whatever the day has in store.
2. Oatmeal Delight: For a quick yet nourishing breakfast, prepare a delightful bowl of oatmeal. VDUBLINE's compact kitchen facilities are perfect for this easy-to-make dish. Just boil water, add it to your rolled oats, and top with fresh fruits, nuts, and a drizzle of honey. This energy-boosting meal will keep you fuelled throughout your outdoor activities.
3. Campfire Pancakes: Indulge in the joy of making campfire pancakes. With a portable griddle or skillet, whip up a batch of fluffy pancakes and customize them with berries, chocolate chips, or a dollop of creamy yogurt. This breakfast not only tastes amazing but also infuses your morning with a cosy campfire aroma.
4. Yogurt Parfait: For a lighter option that still packs a punch, assemble a yogurt parfait. Layer Greek yogurt, granola, and a variety of fresh fruits in a jar. VDUBLINE's thoughtful design ensures you have the space to store your ingredients and assemble your parfait with ease. This on-the-go breakfast offers a balanced blend of protein, fibre, and vitamins.
5. Veggie Breakfast Burrito: Wrap up the flavours of a full breakfast in a tortilla with a veggie breakfast burrito. Sauté bell peppers, onions, and spinach in your campervan kitchen, then scramble in some eggs. Assemble this delightful mixture into a tortilla, add some salsa and cheese, and roll it up for a portable, satisfying meal.
In conclusion, starting your day off with a wholesome meal is essential for embarking on a day of adventure during your campervan journey. Thanks to companies like VDUBLINE, campervan enthusiasts can enjoy the pleasures of a well-prepared breakfast, setting the tone for an exciting and fulfilling day ahead. Whether it's savouring a Sunrise Skillet, relishing a stack of Campfire Pancakes, or assembling a quick Yogurt Parfait, these amazing meals offer a taste of comfort and nourishment, ensuring you're primed for the incredible escapades that await.


You may also be interested

Testimonials
"VDubline were so so great. I honestly couldn't recommend this company anymore. They were friendly and professional in all aspects. Made the whole process for renting the vans enjoyable and exciting. We had a fab time and I will most definitely be going back for more adventures from these guys and their amazing vans"
Rosie Egan
"Had another few days with Betsy, on my own this time. She is so easy to drive and to operate that I felt quite happy taking off for my own little adventure. If you are thinking about it, do it. When you hit problems (like how to put the wing mirrors in, where to put the diesel in, how to lock the van from within at night so that the alarm doesn't go off when you move) you just ring Alex for help - or google the How To video and watch it properly"
Jacqui Grant
"From start to finish dealing with Alex at Vdubline was a real pleasure.Prior to pick up we received a video all about the van and how to operate it, which he covered again when we collected the immaculately clean van.Van drove superbly and was surprisingly comfy in spite of sleeping 3 adults.The equipment is maintained to the highest standards and we had no issues over the 3 nights we used the van.Return was just as smooth and efficient and we would definitely recommend Vdubline as excellent value for money.Thanks team."
Paul Caine
View all